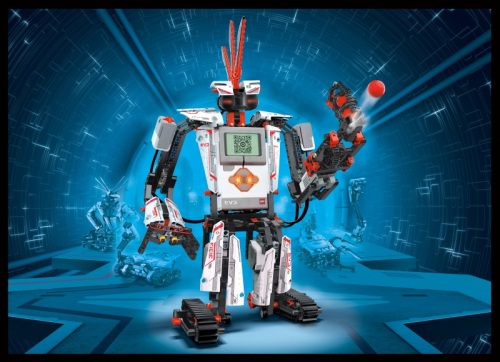 Lego has announced the new version of the great Mindstorm system : LEGO MINDSTORMS EV3
Here is the official announcement from
http://mindstorms.lego.com/en-us/News/ReadMore/Default.aspx?id=476243
Coming Fall 2013: LEGO MINDSTORMS EV3
Create and command robots that do what you want.
With LEGO MINDSTORMS EV3 you can turn your LEGO creations into live robots that follow your every command. The new LEGO MINDSTORMS EV3 set includes everything you need – motors, sensors, programmable brick, 550+ LEGO Technic elements, remote control – to create and command robots of even your wildest imagination, including 5 cool robot characters. Download the 3D building instructions and the app to command your robot via your smart device. Then program your robots to walk, talk, move and do whatever you want them to do to via the intuitive software program, the programmable brick or your smart device.
And here are the latest specs:
EV3 Intelligent Brick
Stronger and faster ARM9 robotic processor
Embedded 16MB FLASH memory
64 MB RAM plus SD expansion slot
LINUX operating system, released under open source
USB 2.0 interface allows for WiFi connectivity
4 input ports: Connect up to 4 sensors at the same time, including your NXT sensors
4 output ports: Now you can power up to 4 motors (Either Large, Medium or NXT)
Up to four intelligent bricks to be connected together (Yes, that's 16 sensor and 16 motor ports!)
Matrix display with loudspeaker
Button interface with status indication
Enhanced on-brick programming
Bluetooth ® v2.1
iOS and Android compatible
Hardware
3 Interactive Servo Motors: 2 large and 1 medium
1 Touch Sensor
New IR Seeker Sensor measures distance, movements and detects objects, and acts as a receiver for the remote control
New IR Beacon remotely controls robot from up to 2 meters (6 feet) away
Improved Color Sensor detects 6 colors as well as the brightness of light sources
Backwards-compatible with LEGO MINDSTORMS NXT: Connect your NXT Sensors and motors to the new EV3 brick.
Assortment of 594 LEGO TECHNIC® elements for easy, more stable building with improved functionality and movement capabilities
Programming Software
Downloadable software is PC and Mac compatible
Icon-based drag and drop environment for "building" programs with new interactive content that helps de-bug programming
Update!
Here is a page with detail about the lego ev3 education program with downlodable product specifications:

http://education.lego.com/en-us/preschool-and-school/secondary/mindstorms-education-ev3/product-range/
45544 LEGO® MINDSTORMS® Education EV3 Core Set:
This core set is optimized for classroom use and contains all you need to teach using the exciting LEGO® MINDSTORMS® set. It enables students to build, program and test their solutions based on real life robotics technology. It contains the EV3 Intelligent Brick, a powerful small computer that makes it possible to control motors and collect sensor feedback. It also enables BT and WiFi communication as well as providing programming and data logging. Students are encouraged to brainstorm in order to find creative solutions to problems and then develop them through a process of selecting, building, testing and evaluating them. This is also an excellent way of getting students to talk to each other and cooperate as well as giving them hands on experience with an array of sensors, motors and intelligent units. Instructions for additional models are included in the software. The set also comes in a sturdy storage box with a sorting tray for easy classroom use and storage. The software and battery charger are sold separately.

The set includes:

Three interactive servo motors
Built-in rotation sensor and ultrasonic sensor
Color/light sensor, gyro sensor and two touch sensors
Rechargeable battery
Ball wheel
Connecting cables
Building instructions
LEGO® Technic building bricks for creating a vast variety of models

Key Learning Values:

Design and build programmable robots using motors, sensors, gears, wheels, axles, and other technical components
Understand and interpret two-dimensional drawings to create three-dimensional models
Build, test, troubleshoot and revise designs to improve robot performance
Gain practical, hands-on experience using mathematical concepts such as estimating and measuring distance, time, speed
Communicate effectively using scientific and technical language

EV3 Software screenshot, source page is here
Here is the new 45500 Intelligent brick:
This programmable, intelligent brick serves as the heart and brain of LEGO® MINDSTORMS® Education EV3 robots. It features an illuminated six-button interface that changes color to indicate the brick's active state, a high-resolution black and white display, built-in speaker, USB port, a mini SD card reader, four input ports and four output ports. The brick also supports USB, Bluetooth and WiFi communication with a computer and has a programming interface that enables programming and data logging directly onto the brick. It is compatible with mobile devices and is powered by AA batteries or the EV3 Rechargeable DC Battery.

The brick features:

ARM 9 processor with Linux-based operating system
Four input ports for data acquisition of up to 1000 samples per/sec
Four output ports for execution of commands
On-board program storage including 16 MB of Flash memory and 64 MB of RAM
Mini SDHC card reader for 32 GB of expanded memory
Illuminated, three-color, six-button interface that indicates the brick's active state
Hi-resolution 178x128 pixel display enabling detailed graph viewing and sensor data observation
High-quality speaker
On-brick programming and datalogging that can be uploaded into the EV3 software
Computer-to-brick communication through on-board USB, or external WiFi or Bluetooth dongles
USB 2.0 host enabling bricks to be linked in a daisy chain, allows WiFi communication and connection to USB memory sticks
Powered by six AA batteries or the 2050 mAh lithium ion EV3 Rechargeable DC Battery
Source page is here
General Questions

Q:What does EV3 stand for?
A:This is the third generation of the LEGO® MINDSTORMS® Education platform and the "EV" stands for evolution. It is a significant upgrade of the second generation of LEGO MINDSTORMS Education NXT, which was launched in 2006.

Q:What is Robot Educator?
A:Robot Educator is the name of both the basic robot and the tutorials found in the software. The Robot Educator is a very simple, quick-to-build robot that students will have in their hands ready to learn the basics of robotics. It is the robot that introduces the student to the world of robotics. The Robot Educator learning tool is designed to take you and your student's through the essentials of programming, data logging, and hardware. It does so in a structured and engaging way, ensuring that everyone is constructing, programming, and experimenting within a minimum of time.


Hardware Questions

Q:What comes in the core set?
A:Sturdy storage box and sorting tray for easy classroom management
Building instructions
Rechargeable battery
Ball Wheel
Connecter Cables
USB Cable
LEGO Technic Elements – piece count 541 pcs.
3x motors (2x large motors & 1x medium motor)
5x sensors (2x touch sensors, 1x color sensor, 1x ultrasonic sensor & 1x gyro sensor)
1x P-brick

Q:How is the LEGO MINDSTORMS Education EV3 programmable brick different from the NXT?
A:The EV3 'P-brick' is a completely new component and the most powerful P-brick ever created by LEGO Education. It is built up around a faster and stronger processor, which not only increases performance on all parameters compared to the NXT but also introduces new possibilities not available with NXT. For detailed information on the LEGO MINDSTORMS Education EV3 P-brick see the Product Sheet.

Q:Is there on-brick programming?
A:Yes. We have continued and improved the on-brick programming with the LEGO MINDSTORMS Education EV3 brick. Students can easily program basic tasks on the brick and also conduct basic data logging. All of the on-brick programs can be uploaded into the LEGO MINDSTORMS Education EV3 software for continued and advanced work.


Software Questions
Compatability Questions